INDIVIDUAL ARTIST GRANT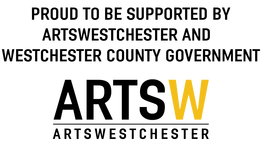 Awarded a 2022 ArtsWestchester Artist Grant, a regrant program of the New York State Counciel on the Arts (NYSCA)! The grant is supporting the creation of new paintings & an exhibition in Westchester at MAPS in Port Chester! ... More information to come.
This project is made possible with funds from the Statewide Community Regrants Program, a regrant program of the New York State Council on the Arts with the support of the Office of the Governor and the New York State Legislature and administered by ArtsWestchester.
---
SPRING 2022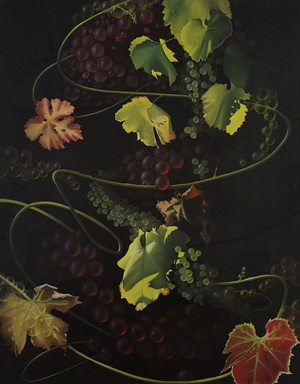 OPENING MARCH 11th 2022
ZOONOTIC TONIC
Solo exhibition of Mia's Sci-Fi Still Life Paintings
FRIESEN + LANTZ FINE ART
Catalog essay by Peter Frank

CLICK HERE: LINK TO DIGITAL CATALOG

CLICK HERE: LINK TO REVIEW

CLICK HERE: LINK TO SCSU NEWS


______________________________

OTHER NEWS

OPENING APRIL 22nd 2022
Skeptical Realism: Artworks by Mia Brownell and Martin Kruck
Artspace

VISITING ARTIST
Last month I was honored to be invited to be a guest speaker and meet with graduate students at Stony Brook University's new Future Histories Studio. A new laboratory for art-centered research founded by Kusama Endowed Professor in Art Stephanie Dinkins. FHS is an exploratory hub for those interested in hybrid inquiry and developing practice-based research at the intersection of art, technology, race, storytelling, and social justice.

ART COLLECTION CATALOG
National Academy of Science
Convergence II: The Art Collection of the National Academy of Science.

PUBLIC ART COMMISSION (final installation pending)
City of Geneva, NY
---
SUMMER NEWS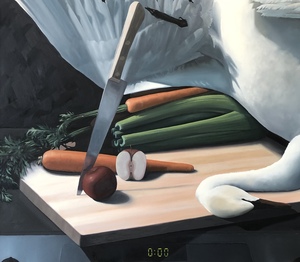 Leda and the Swan is a short series of paintings that I am working on during the current pandemic. This series is depicting Zeus in various stages of food preparation by Leda. I look forward to sharing the work this fall.

Related artical on Leda and the Swan by Messy Nessy Chic

_______________

Pollinators an on line group exhibition hosted by NYC's Riverside Park and The Art Students League of New York.

Pop Up Art Party an on line fundraising exhibition for the Hunterdon Art Museum.

Public Art Award - commissioned by the city of Geneva, NY to design three stainless steel panels for bike shelters.
---
FALL NEWS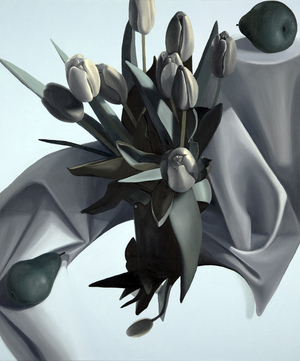 Hi-Fructose Review of Fall Shows!
http://hifructose.com/2019/09/24/the-recent-paintings-of-mia-brownell/


Skeptical Realism
Mia Brownell and Martin Kruck
Hunterdon Art Museum
7 Lower Center St, Clinton, NJ 08809
https://hunterdonartmuseum.org
September 22, 2019 – January 5, 2020
Opening reception & Gallery Talk: September 22, 2019; 2:00-4:00pm




Foodie Fever
Curated by D. Dominick Lombardi and Thalia Vrachopoulos
Shiva Gallery at John Jay College
860 Eleventh Ave, NY, NY 10019
Opening reception: September 24, 2019; 5:30 – 8:00pm
http://shivagallery.org/portfolio/foodie-fever/

---
---
HUNTERDON ART MUSEUM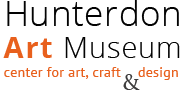 Two person show at the Hunterdon Art Museum
September 22, 2019 - January 5, 2020
---
REAL ART WAYS CATALOGUE ESSAY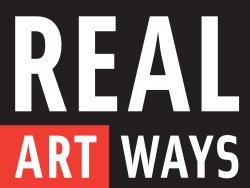 Real Art Ways Catalogue Essay by Gil Scullion
A catalologue has been printed to accompany the solo exhibition Mia Brownell: Plate to Platelets on view at Real Art Ways in Hartford August 15 to September 30, 2018.
---
FALL 2018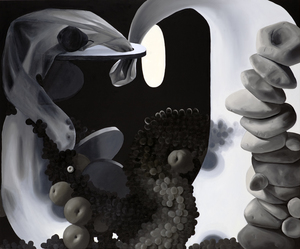 MIA BROWNELL FALL 2018


Artist Residency

I am looking forward to being a Visiting Artist at the American Academy in Rome this October. Made possible by current grant and sabbatical awards from Southern Connecticut State University.


Exhibitions

August - September 30th
Mia Brownell: Plate to Platelets@ Real Art Ways in Hartford, CT August 16 – September 30. Opening Thursday, August 16 6-8pm. Curated by David Borawski
https://www.realartways.org/event/mia-brownell-plate-to-platelets/2018-08-16/

August - september 25th
Summer Selection. Artsy group show Waterhouse & Dodd New York
https://www.artsy.net/show/waterhouse-and-dodd-summer-selection-from-waterhouse-and-dodd-new-york

August - September 9th
Do you feel me? Artsy group show with Sloan Fine Art
https://www.artsy.net/show/sloan-fine-art-do-you-feel-me

September – October 14th
The Real Unreal: Realism Now@ The Gallery WCSU in Danbury, CT September 6 – October 14. Opening Thursday, September 6 6-8pm. Curated by Jane Rainwater. Exhibiting Artists: Mia Brownell, Leeah Joo, Jennifer Knaus, and Nathan Lewis
https://www.eventbrite.com/e/gallery-opening-artist-talk-the-real-unreal-realism-now-tickets-47082332524


Artwork in singular events

October 9th
On Tuesday, October 9, the New York Academy of Art will celebrate its annual Take Home a Nude Art Auction & Party at Sotheby's.
https://nyaa.edu/nude/

October 20th
Sour Milk@ 73 Orchard Place in Greenwich, CT on Saturday, October 20th4:30-8:30pm. A group of selected artists are given 48 hours to transform a house before it is demolished. Curated by Ben Quesnel and Christine Stiver
https://www.instagram.com/sourmilk2018/


Publications

Featured in Hi-Fructose collected box set #4

Exhibition catalogs with essays by Gil Scullion

Cover Art for Margot Schilpp's new book of poetry

Featured in upcoming University of Rhode Island's issue of the Ocean State Review



---
WATERHOUSE & DODD NYC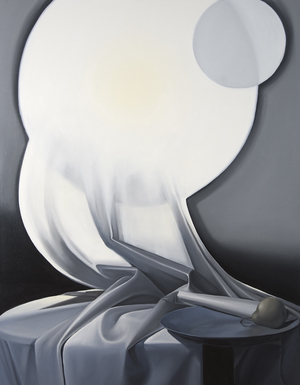 Works now available at Waterhouse & Dodd NYC:

www.waterhousedodd.com

15 East 76th Street


New York, NY 10021




Telephone + 1 212 717 9100


newyork@waterhousedodd.com


Opening hours: Monday-Friday 9:30am-6pm




Saturdays by appointment
---